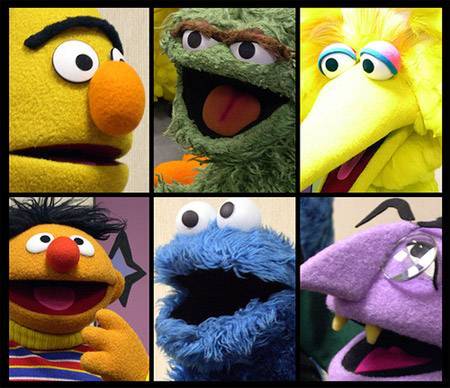 As I open up google I notice their google doodle about one of the longest running educational show for kids. Last time I saw Big Birds Legs between Google letters and now saw cookie monsters face, I wonder who might be next. Sesame Street is one of my unforgettable childhood experience and my favorite Sesame Street Character back then is Mr. Kermit the Frog the Frog that jumps and jumps lol. Anyway, why Sesame Street's with Googles Doodle, it is because Sesame Street celebrates their 40th Anniversary this November. Sesame Street started November 10, 1969 and this coming November 10, 2009 is their 40th year. Happy Anniversary Sesame Street.
A bit of facts about Sesame Street characters.
Bert and Ernie: Bert and Ernie are not brothers they are just roommates. Bert and Ernie color and appearance signifies something. Bert as Banana and Ernie as Orange.
Oscar the Grouch: Is named after Oscar Brand a musician and one of the early board members of the Childrens Workshop during Sesame Street Development.
Big Bird: He is not a muppet member of Sesame Street because muppets were played with hands hence Big Bird was played as mascot. Big Birds height is 8 foot 2 inch tall.
Cookie Monster: Aside for the love of Cookies, Cookie Monsters birthday is November 2.
Count Von Count: The counting vampire. Also known as The Count. Nothing special but to influence children to love counting.
By the way to learn more of Sesame Street you may visit their official site at sesamestreet.org.
Image Source: http://smartcanucks.ca/
Want to receive updates via email? Subscribe Here: