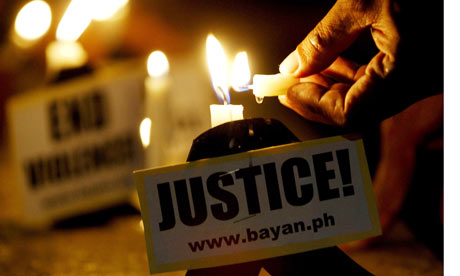 In behalf of the Filipino blogging community I would like to dedicated this post to all victims of the brutal Maguindanao Massacre. I, as Filipino was really disappointed with my fellow Filipino brothers who merciless kill innocent people. I pray for their souls.
And to all victims may they rest in peace and may they seek justice.
Its familiar for us that more power means more evil that is why I wanted to seek within the heart of the ruthless soul who have done this immoral act to seek far beyond power. It's our duty to do good, to serve and be a model to all. I pray that this would be the last.


Image Source: http://www.guardian.co.uk

Want to receive updates via email? Subscribe Here: